Chatting and ''Jammin'' with DJ Mike P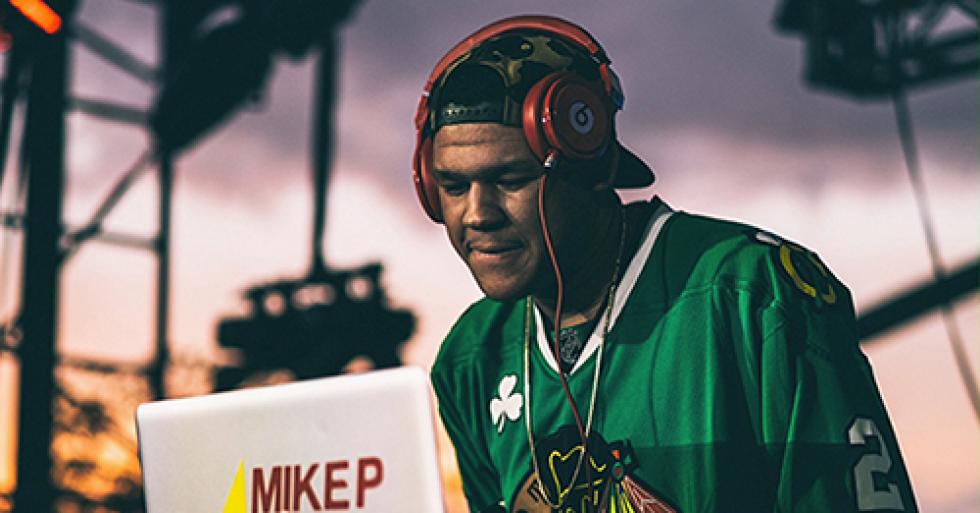 You get to see and hear DJ Mike P weekday mornings on The Jam. He is our resident DJ for the show and spins all of the hottest tracks. Did you know he is only 23 years old, though? He is also the official DJ for some great Chicago talent, including Taylor Bennett. He is a Chicago native and a former CPS student. We sat down and chatted with him about how he got into music, his views on the CPS, and what he is "jammin'" to when no one is watching. Read all about it below.
You have true deep Chicago roots. What side of the city are you from?
DJ Mike P: I feel like I am from all over Chicago. I know people on the West Side. I went school on the South Side. I feel like I have been exposed to so much around the city.
When did you first start DJ'ing?
DJ Mike P: I first started DJ'ing at Urban Prep Charter Academy Engelwood Campus. It was my junior year of high school and I was doing the morning announcements. I would use iTunes, but you know you can only do so much with that. You can turn the volume up, turn it down, and choose another song [laughs]. I was not with that. I wanted to sequence some other songs and mix them in and scratch them. Then, senior year, they asked me to DJ an event called "Mom Prom." They could not pay me as a student, but they cover about $2,000 dollars of my expense… my prom outfit, tickets, flowers and stuff for my date for my senior prom. Then I DJ'd my senior prom.
How did you end up getting into music?
DJ Mike P: I played the drum set for four years. I played the African drums for fours years, and I did tap dancing for four years at Mayfair Academy. I tried to learn to play the piano, bass and all that stuff. I was a musician before starting to DJ. It made it a little bit easier to know what sounded good, different keys, and stuff like that.
Do you still have your tap dance shoes? Is that your secret talent?
DJ Mike P: [Laughs] I don't. There may be a picture laying around my mom's crib with me in some spandex for a recital. That as close as it gets.
Who is your favorite band — who would you go see perform?
DJ Mike P: Mint Condition. I love Mint Condition. I am a soulful kid. Mint Condition has the full package. That is my number one top band.
You mentioned that you didn't go to college for this. Tell me about the post-high school life and that transition.
DJ Mike P: Post–high school life was hard. You have my mom on one end saying you have to get a job, you have to go to school, or you can't live here. You have to do something. Then, you have my high school who is still waiting on me to figure which of the schools that I am going to. We were well into the process by then. I had already gone to prom and the last day of school was coming up. I told them I did not want to go to college. I came from Urban Prep, where we have 100% acceptance rate to college. They definitely promote going to college. I had a lot of people waiting on me to say something and I did not say anything. [Laughs]
So, since I could not go stay with my dad, because he is not in my life, and my grandma only lives downstairs, I decided to go to community college. We — my mom and I — could save money until I decided what I wanted to do.
I felt like if I did a good enough job DJing that my school covered all my expenses for prom, I could get paid to do this.
I ended up DJing at my first CPS school, which was at Lindbloom High School. The kids felt like they would have a good time because they had a young DJ that looked like them instead of an older DJ. That started my partnerships with CPS as a vendor.
With being a former CPS student, how do you feel about how CPS is depicted?
DJ Mike P: I feel like when we discuss CPS, we need to focus on headquarters and the administration. We should not point the finger at the students. Kids that come out of CPS are beyond smart and beyond talented, but often they do not get to achieve their full potential because of the politics in the school system. We do not highlight students who have succeed from CPS. We just hear about schools closing and all of the school politics.
I thank God for people like Chance the Rapper who have poured money into CPS, specifically the arts. Education is key but we need to invest in a well-rounded talented student.
We also need to focus on providing equal resources to all student. We open schools like CHIarts, but it is located all the way up north. How do we get kids from the southeast side of the city to those schools? We hear more about the CPS athletes succeeding. However, I want to hear more success stories from other disciplines.
What are some words you pick to describe CPS students?
DJ Mike P: Talented, creative, smart and willing
If you are not DJing what are you doing?
DJ Mike P: Buying shoes. I have over 120 pairs. They are in my closet, under my bed, everywhere.
What are you jammin' to right now?
DJ Mike P: So my most recent music purchases was the soundtrack for the movie Sing. I love that movie and watch it with my nephew. I like the song "Don't You Worry 'Bout a Thing," which was originally by Stevie Wonder. On the movie it is sung by Tori Kelly. She flipped the track, but it still has a lot of soul.
If you could work with anyone who would it be?
DJ Mike P: Chance the Rapper
Isn't that coming?
DJ Mike P: It is very close.