"Fill A Bag, Fill A Bus" and help CW26 end Hunger in Chicago!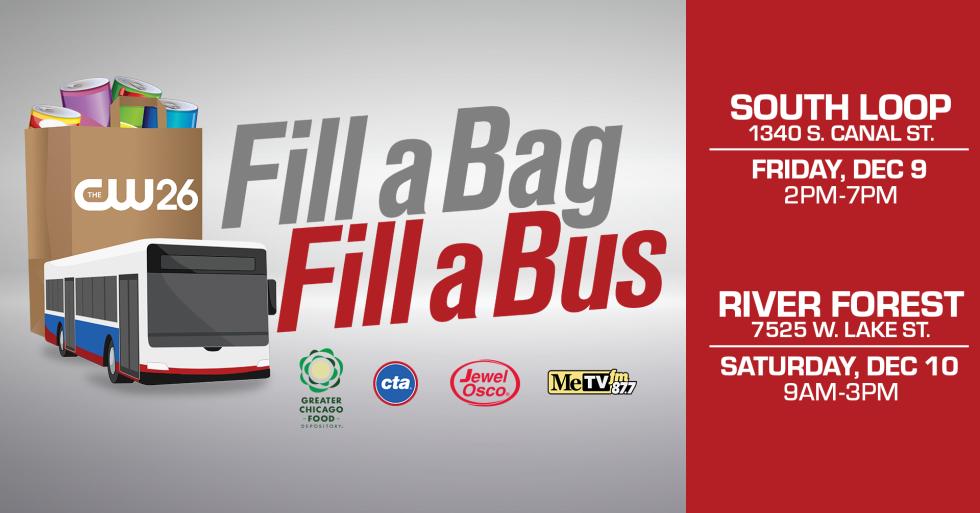 One in five households is food insecure in the Chicagoland area, which is why CW26 has partnered with MeTV FM, the CTA, Jewel-Osco and the Greater Chicago Food Depository to help feed families in need in our 'Fill a Bag, Fill a Bus' food drive.
There are multiple ways you can provide a meal this holiday season!
On December 9 and 10th, we'll be at local Jewel-Osco stores asking you to help fill a CTA bus with nutritious food for your neighbors facing hunger. You can stop by and shop for a cause by buying nonperishables and donating them on your way out.
Friday, December 9th, join us at the Jewel-Osco at 1340 S. Canal from 2P-7P and donate to our bus. Saturday, December 10th, we'll be at the Jewel-Osco at 7525 W. Lake Street in River Forest from 9A-3P. We'll aim to fill a bus with food there too!
Special guest and CW26 talk show host, Steve Wilkos, will be collecting donations at the Canal Street Jewel-Osco on Friday from 3P-5P. Come down and say hello!
If you can't make it to a Jewel-Osco, get in on the action by donating online and your contribution will go directly to The Food Depository to provide meals to hungry Chicagoans.
Just Text CW26 to 91999 or click HERE to donate NOW!
The Food Depository's most needed items include: canned beans, canned chili, canned soups, canned stews, canned fruits, canned vegetables, canned fish and peanut butter.
Let's show how generous Chicago can be. "Fill A Bag, Fill A Bus," coming this December from CW26!