Jerry Springer and Steve Wilkos tell us their favorite places in Chicago and predict if the Cubs make it to the World Series in 2018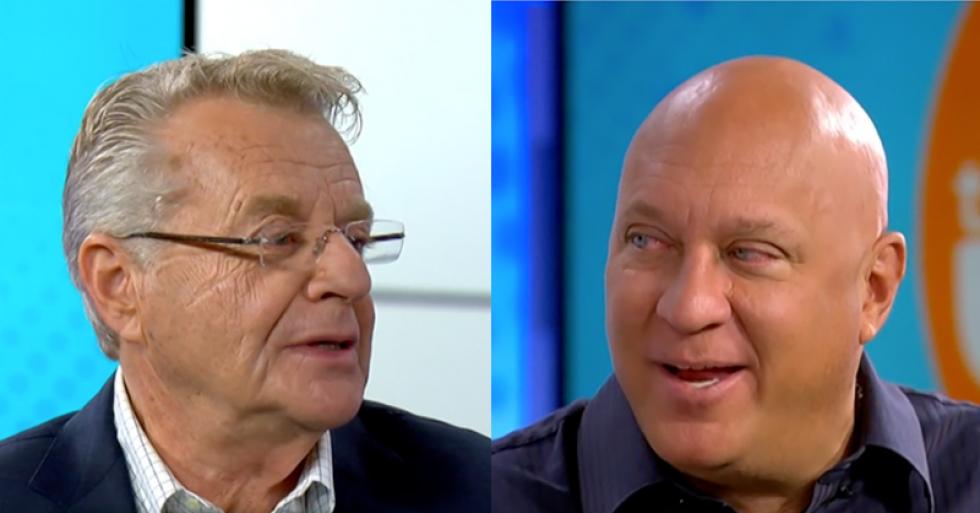 Jerry Springer and Steve Wilkos are kings of daytime television and Chicago legends. The Jerry Springer Show was filmed here, from 1992– 2009. Steve Wilkos is a native Chicagoan. They both have true connections to the city.
The TV hosts talked to us about their favorite places to eat in Chicago, their fondest memories, a bit about politics, and predicted if the Cubs will make it to the World Series in 2018. Read all about it.
What is your favorite thing about Chicago?
Springer: It is a world-class city. There is everything here. I have a home in Evanston. That is such a great part of this community. It is a college town, yet you are on the lake. It is 20 minutes from downtown. [Chicago] is a clean New York.
What do you miss most about Chicago?
Wilkos: I was born and raised here. I was 45-years-old when I moved away. The only time I did not live in Chicago was when I was a Marine for six years. I built my dream house in Park Ridge. It was tough for me to leave Chicago. When I come back, everyone is like, "Hey, Steve!" I was just at Gibsons for dinner last night, and everyone greeted me. I miss it so much. It is nice to come back. I was a policeman. I worked at the bars, and of course, on The Jerry Springer Show, which has made me well known. When I come back, I know everybody in the city and they take good care of me. [Laughs]
"My favorite thing about growing up in Chicago was walking down to Wrigley Field. I was 10 years old, going by myself to Cubs games. I would flip up seats all the way around from left field to right field — you would get a pass to go to any game. I spent my summer at Wrigley Field flipping up seats."
-Steve Wilkos
What part of the city are you from originally?
Wilkos: I grew up in Roscoe Village, a mile west of Wrigley Field. Back then, it was not called "Roscoe Village." [Laughs] It was [later] gentrified and then became Roscoe Village. When my show launched… the first day before we went in to taping, my wife, who is the most wonderful wife in the world, gave me cufflinks made of wood from the seats at Wrigley. She said, "You have come a long way from flipping up seats."
You mentioned Gibsons, and a list of the top-grossing restaurants in Chicago was recently released. Now, it is debatable who is the best. What are your favorites?
Wilkos: For dinner, it is either Gibsons or Tavern on Rush — and Carmine's. But, my two favorite places to eats are… Hero's [Submarine Sandwich Shop] on Addison and Western. They were in business for 55 or 60 years and they just sold the place. I worked there when I was a kid. Also, Pete's Pizza on Western Avenue. Everyone asked what is the best pizza — it is the pizza you grew up on. It is just nostalgic. I grew up on Pete's pizza. When I am in town, I try to grab a pie.
What are some of your favorite places, Jerry?
Springer: Joe's Stone Crab. I would have to say that. But for fun, I would have to say Gibsons. You really feel like you are in the middle of everything that is going on.
Wilkos: That is like the epicenter of Chicago.
Springer: It is coincidence, but the guys who are the security on my show are Chicago cops, which as you know, Steve initially was. Now, Jason [Brandstette], that is his beat, so he works right there.
Wilkos: He is now the new Steve. When I was on the Springer show, everyone knew me and took care of me. Now, Jason is like the king of Chicago, because he is on the Springer show.
Springer: He is not getting his own show, though. [Laughs]
What is a go-to Chicago event that you just can't miss?
Wilkos: For me, it is Cubs game. My son is a huge baseball fanatic like I am. I kept my lake house in Wisconsin, which is only about an hour away. So we come back a couple of weeks in summer and go to every game possible. My daughter went to Lollapalooza. She is a teenager, so my wife had to sit there as my daughter runs around Lollapalooza. I said, "I am happy I don't have to do that." [Laughs] I love New York, but this is cleaner, more manageable, more affordable. And we do not have a Socialist mayor here in Chicago. I think Rahm is trying to do the best job he can. I like him. Some of the things with Mayor Daley I did not agree with. He closed Meigs Field, sold the parking meters, sold the Skyway. It has cost the city a lot of money.
On the topic of mayors…
Springer: True story… Meigs Field was closed on a Sunday. I was flying in from Florida because I had shows on Monday. All of a sudden, the tower said we could not come in. They tore up the runway! We were starting to come in and they said there is no runway!
Wilkos: It used to be so nice because we lived right there. We were home in ten minutes.
Springer: But, you could not argue to keep it open just so a couple of rich guys could land their planes. [Laughs]
Wilkos: No, I want that, because you are a rich guy and I got to be on your plane. [Laughs]
Springer: It was after 9/11, though, so with the security, I understand.
"I am a baseball fan. I like the Taste of Chicago. And anything that has to do with the clubs and music.
Now at 73, I go to the nursing homes and look for restaurants with a blue plate special at 4:30."
-Jerry Springer
You both mentioned the Cubs. Who is your all-time favorite Cubs player?
My favorite player Javier Báez. I think he is the most exciting player in baseball. He has a lot of enthusiasm for the game. He is an awesome baserunner. He has the best hands in baseball, but when you watch him play, he is just so happy. That what I was for Halloween — I was Báez. My son was [Addison] Russell, my daughter was [Kris] Bryant, and my wife was [Anthony] Rizzo.
Springer: I grew up in New York, so this is going to lose me everything. I am a diehard Yankees fan. However, my grandson Richard is a Cubs fan. We were hoping for a Yankees vs. Cubs World Series. My all-time favorite Cubs player was Ernie Banks.
Do you all think we are going to come back next year? Maybe Cubs vs. Yankees World Series for 2018?
Wilkos: I was hoping for Cubs vs. Yankees.
Springer: So were the networks.
Wilkos: I was hoping for the Cubs vs. Yankees — and I hate the Yankees. But not like I used to. You can't hate Aaron Judge, and Derek Jeter when he was playing. Those guys are such good ambassadors of baseball. It is hard to hate them when they have really good guys. I wanted them to make it because I live right outside of New York and can come to Chicago. I would have gone to every game in the series. It is so hard to make the World Series two years in a row. The good thing about the Cubs… they are a winning team. They are going to have a good team for a long time. That's all you can ask for.
Jerry Springer elaborates on his tweets about the current state of America, President Trump, and more.