It's Premiere Week!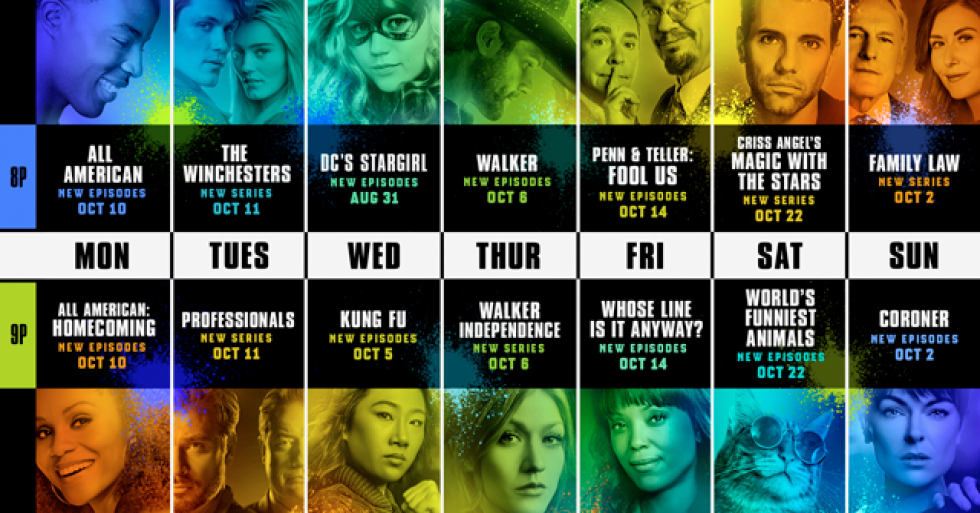 The wait is over! Premiere Week is underway and officially began with the series premiere of Family Law and the Season 4 premiere of Coroner this past Sunday. 
Now the fun continues Wednesday with the Season 3 premiere of Kung Fu at 8P followed by the return of Walker and its highly-anticipated prequel, Walker Independence on Thursday.
Friday and Saturday night, hit the right note with the 2-night iHeartRadio Music Festival featuring performances by the hottest names in music starting at 7P.
The following week, All American and All American: Homecoming return Monday nights, plus the long-awaited Supernatural prequel, The Winchesters makes its debut Tuesday, October 11 at 7P followed by the new action series, Professionals starring Tom Welling and Brendan Fraser. 
Concluding our 2 weeks of premieres is Penn & Teller: Fool Us and Whose Line is it Anyway? which are both bringing the Friday night laughter with brand-new seasons.
Check out the full schedule below! 
Sunday, October 2
- 7P: Family Law Series Premiere
- 8P: Coroner Season 4 U.S Premiere 
Wednesday, October 5 
- 8P: Kung Fu Season 3 Premiere 
Thursday, October 6 
- 7P: Walker Season 3 Premiere
- 8P: Walker Independence Series Premiere
Friday, October 7 
- 7P: iHeartRadio Music Festival Night 1
Saturday, October 8 
- 7P: iHeartRadio Music Festival Night 2
Monday, October 10 
- 7P: All American Season 5 Premiere
- 8P: All American: Homecoming Season 2 Premiere
Tuesday, October 11 
- 7P: The Winchesters Series Premiere
- 8P: Professionals Series Premiere
Friday, October 15 
- 7P: Penn & Teller: Fool Us Season 9 Premiere
- 8P: Whose Line is it Anyway? Season 19 Premiere
Saturday, October 22 
- 7P: Criss Angel's Magic with the Stars Series Premiere
- 8P: World's Funniest Animals Season 3 Premiere