Mayor Rahm Emanuel signs the Chicago Climate Charter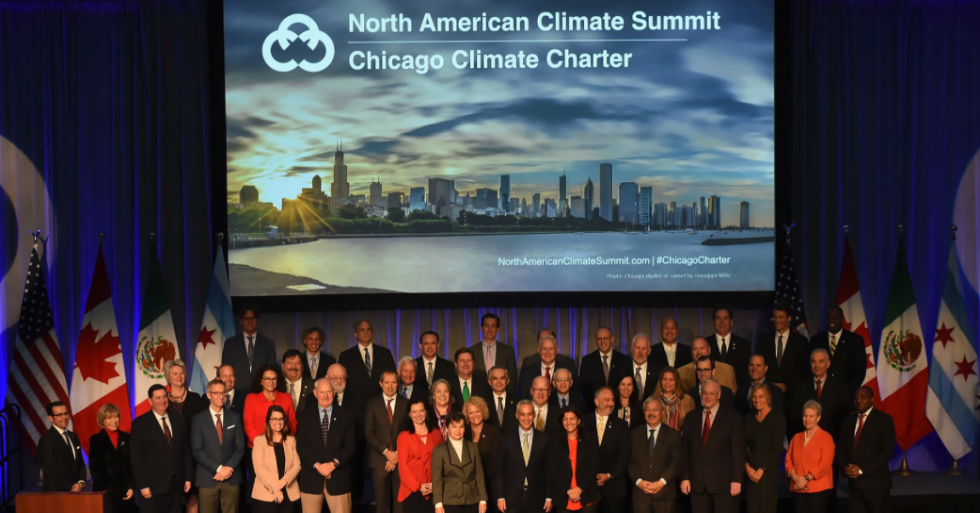 Mayor Rahm Emanuel has committed to fighting climate change by signing the Chicago Climate Charter, a first-of-its-kind international charter on climate change. The charter represents more than 50 cities.
Mayor Emanuel was joined yesterday by President Barack Obama and municipal leaders from across the world, including Mexico City Mayor Miguel Ángel Mancera, Vancouver Mayor Gregor Robertson, Paris Mayor Anne Hidalgo and Vice Chair of the Global Covenant of Mayors Christiana Figueres, to sign the Chicago Climate Charter. This charter is a pledge to reduce carbon emissions, partner with organizations to developed holistic climate tactics, and publicly track and report city emissions.
Mayor Emanuel stated, "The Chicago Climate Charter represents tens of million residents who are committed to confronting climate change head-on."
Proud to stand with more than 50 Global Mayors to sign the #ChicagoCharter, a first-of-its-kind international charter on climate change — committing to achieve emissions reductions and move forward with climate action. https://t.co/jYpoR5GESSpic.twitter.com/xExK48ofPM

— Mayor Rahm Emanuel (@ChicagosMayor) December 5, 2017