Chicago Food To Go Restaurants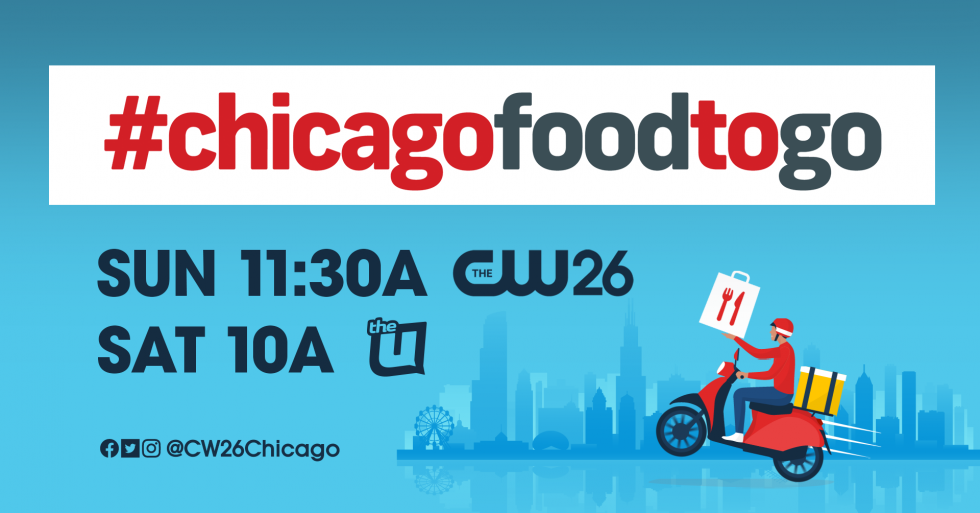 Looking for curbside pick up or delivery? CW26 is serving up local restaurant options all across town. Explore different restaurant options across town by neighborhoods in the city and surrounding suburbs.
Follow us on social media @CW26Chicago and with the hashtag #ChicagoFoodToGo to discover delicious dishes and share your favorite takeout spots all while supporting local Chicago eateries.
Are you a local Chicago restaurant? Get in touch with our team here.
Click any of the links below to check out Chicago Food To Go recommendations in various Chicago neighborhoods.
Chicago Neighborhoods
Chicago Suburbs
Click here to watch previous episodes of Chicago Food To Go and see where you can watch new episodes Sundays at 11:30A on CW26.
Restaurants featured most recently on Chicago Food To Go:
Baker Miller is a homey bakery using its own flour in baked goods & offering grain-focused cafe eats plus a toast bar.
Carmine's authentic pasta, savory lamb chops, veal saltimbocca, and mouthwatering New York Strip Steak prepared either Vesuvio or Italian style are guaranteed favorites.
Catering by Steve's is a full service catering company providing service and foods for every occasion.
Good Ambler boasts an array of sweet and savory offerings, hand-crafted assortments of individual chocolates, house-made candy bars, and cakes, alongside a full coffee program in partnership with 4 Letter Word.
Crosby's Kitchen is a family-friendly favorite located at the heart of Chicago's bustling Southport Corridor.
Wake n' Bacon offers a playful environment, where the outdoors come inside, and you can enjoy great food with fun drinks.
The Soul and Smoke team is consumed with the details: the meat-to-bone ratio on our ribs, the creaminess of their mac and cheese, and the combination of spices in Chef Carter's signature sauce.
Claudio is part of the fabric of our city and we are proud to announce the opening of Tamale Guy Chicago with his business partner Chef Pierre Vega.
Cluck It is a Nashville hot chicken concept with a Chicago twist.
Afro Joes promises to serve quality service, quality coffee on the Southside of Chicago.
El Oso's menu reflects the simple tradition hearths represent in a modern context.
Patisserie Coralie offers exquisitely handcrafted pastries that can be custom designed to suit your special occasions.
The Spoke & Bird concept is built upon the increasing desire for healthy and affordable food and beverages as well as a space in which to enjoy all three.
Whether you're looking for a boost, a weekly infusion of goodness, or a complete reset, HI-VIBE has got you covered.
Emèchè Cakery and Cafe is a boutique bakery that offers a variety of pastries including vegan and liquor infused options.
Hero Coffee Bar is a Latina owned Chicago based coffee shop with 4 locations throughout Chicago.
LondonHouse Chicago synchronizes the classical architecture of 360 North Michigan Avenue with a modernist 22 story all glass tower addition forming a one-of-a-kind destination in Chicago.
Hey Sugar is a playfully refined bakery and cafe concept in Geneva, IL.
Morkes Chocolates provides high quality and diverse tastes at affordable prices!
Goddess and Grocer is an American cafe with sandwiches, salads, pastries, plus prepared foods & gourmet gifts.
The Graystone Tavern is a sports pub offering tacos, burgers, and other comfort grub with a large selection of beer.
Cafe Selmarie is a contemporary American restaurant and bakery located in the heart of Lincoln Square, Chicago since 1983.
Vanille Patisserie specializes in authentic French pastries, desserts, and cakes.
Roberts Pizza Company, situated in the heart of downtown Chicago, serves up thin-crust, artisanal pies featuring fresh and unique ingredients.
Scratchboard Kitchen is a breakfast & lunch restaurant in downtown Arlington Heights delivering scratch-made food and drinks using the highest-quality locally sourced ingredients.
The Rambler Kitchen and Tap has an extensive menu of appetizers, salads, and sandwiches that is sure to appeal to your palette!
Dog Haus has garnered critical acclaim and national attention for its signature all beef Haus Dogs and handcrafted proprietary Haus Sausages.
KFIRE specializes in Korean BBQ that features delicious proteins like Kalbi or their signature Spicy Chicken.
Cafe Con Leche has been serving both Mexican breakfast favorites and Latin dinner classics, paired with delectable desserts and coffees.
Chi Yatai serving authentic Japanese Street Food and Bubble Tea made with fresh organic milk.
Veggie House is a comforting and casual spot that serves pure vegan and vegetarian food in Chicago Chinatown.
Order El Burén Caribbean Cuisine for all Caribbean, seafood, and Latin American dishes!
Chief's Pub takes bar food to the next level. They always provide friendly service in a relaxing environment and serve American style pub food that will have you feeling full and completely satisfied.
Try out a rotating menu of sandwiches, wraps, soups and more at The Sandwich Club in Skokie!
Located along the Chicago River in the burgeoning Goose Island neighborhood, Azul is an upscale mariscos (seafood) restaurant serving an expansive menu of Latin-inspired fare. The concept aims to combine the ethos of an authentic mariscos restaurant with modern hospitality practices and all the touches of a sophisticated, lively spot.