Diana Gutiérrez chats about her DePaul cheerleading days and the importance of storytelling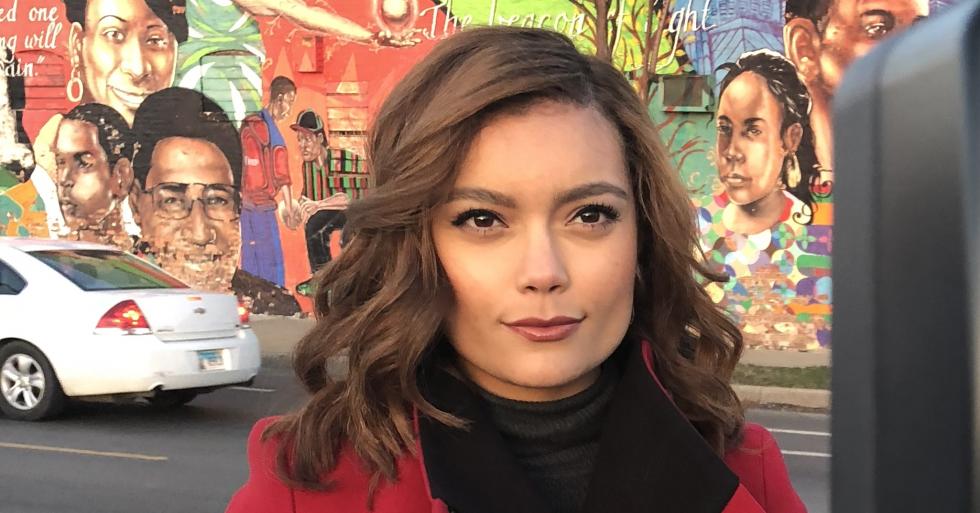 Diana Gutiérrez is the newest member of 'The Jam Fam!' She has a love for storytelling, which is undeniable when you see her on TV. But today, the tables have turned and she is telling her story. She is a first-generation college student and a former Division 1 cheerleader. Keep reading for more as Diana chats about her days at DePaul and her goals as a journalist.
You are new to the team and have been delivering some amazing stories in a short amount of time. What do you do when you are not on camera?
When I am not on camera I always take a little time to regroup, so I can come to work with a clear head (laughs). As you know, news can be hectic, especially since breaking news can happen at any point of the day.
However, one of the hobbies that I pursued throughout my college career was cheerleading. I started at DePaul in 2012 and I was offered a spot on the D1 cheer team.
So are you a dancer, high-flyer, gymnast…?
Yes, all of that (laughs). All cheerleaders can relate to that. You get thrown into things. I have always been the main base (helping to lift other cheerleaders into the air). However, when someone doesn't show up the next guy or girl is up.
So my senior year, I did a lot of flying. In cheer, you have to be multi-faceted because you never know.
Another cool thing about DePaul cheer is that we went to compete nationally twice. So, I was a full-time student and a full-time athlete. I also worked during school. I had an internship at WLS, which is ABC7.
We would have "two-a-days" working out in the morning and having practice in the evening. It was not just the fact that you were on the cheer team. It made you become a better planner. It made you grow up in a way.
DePaul is a part of the Big East so I cheered at Madison Square Garden four years in a row. I think about that and how fast those nights went by. It was a feeling that makes you say "I am here and I made it."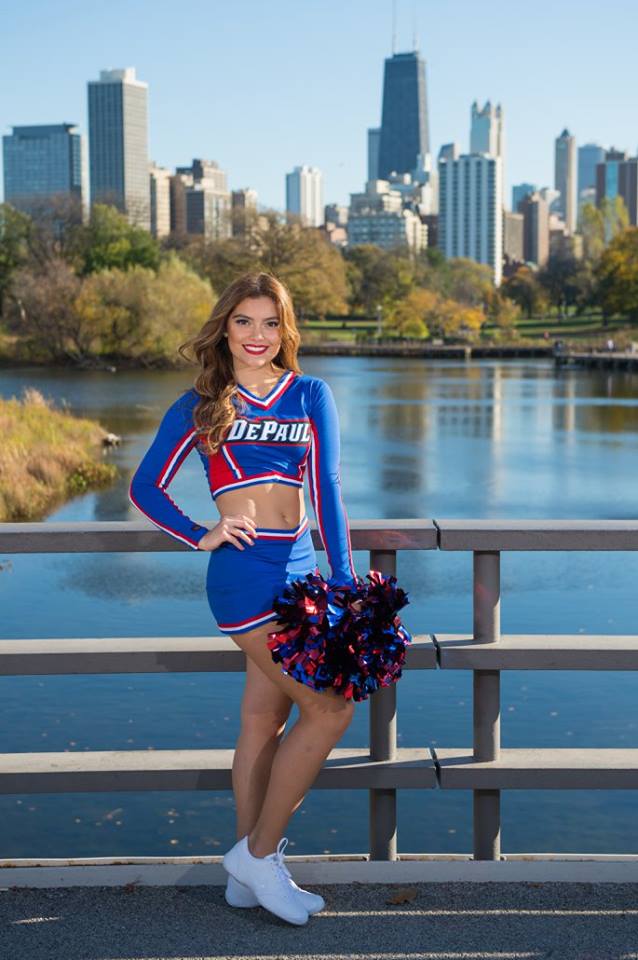 Did you know that you always want to be journalist/on-air?
I think if you ask my mom (laughs)...I would walk around the house and have conversations explaining things that happened. I was the one at family parties who would say "I have an announcement" and would want to bring attention to a certain subject.
It was not until I studied abroad when I was junior…. I went to Spain. I was out there for a couple of months. I was an English major before that. I wanted to go to law school. I was all over the place.
Then I went to Spain, I started reading the news that was happening at home while I was away. That was 2014. Whatever the topics were at the time I took interest in them. I think I came back from that trip with a little more courage. I said I was going to go do what I wanted to do and that was being a reporter.
I will say with being a Latina and having parents who are from a different country, your parents really want the best for you. I think my parents were a little apprehensive about me working in television. They were hesitant because working in television is known to be difficult. However, they still supported me.
I went with it and started taking TV classes and writing classes. As you know writing for TV is a completely different (laughs).
When I did my first live hit at ABC57 in South Bend or even practicing for Good Day DePaul, I got the feeling that I belonged. Even when it is a hectic news day there is a little light. It is a feeling in my heart that I would not have it any other way.
What do you feel like you have struggled with on your journey?
I feel like we all want to get the big story. I did not want to do the little stories (laughs). I remember I did a story on a cow one time. I was so surprised that we were doing that story, but for that community it was important.
I learned my lesson then. It does not matter how big the story is. What matters is how you deliver it. You are not just catering to a specific person, it is for the community.
What is your ultimate goal?
I want to have that local news aspect to my reporting. I want to tell stories that impact people whether it be Chicago, New York, or anywhere in the country. I want to hold on to that storytelling aspect and never let that go. I want to produce something that makes people say "that is a good story and I want to learn more."
I think in this role it inspires other Latinas that they can do this too. It was a little struggle for me to recognize and admit that I wanted to be a journalist. I had that boundary with my parents. They said that I could be a doctor or a lawyer. That is not what I wanted to do. I also want to serve as an asset to my community and be helpful for anyone who wants to do this as well. I am so lucky and blessed to be in this position.
To see more from Diana Gutiérrez, follow her on Twitter, Facebook, or Instagram.