Drew Sidora Spills the Tea: She tells us about working on 'The Game' and all about her new projects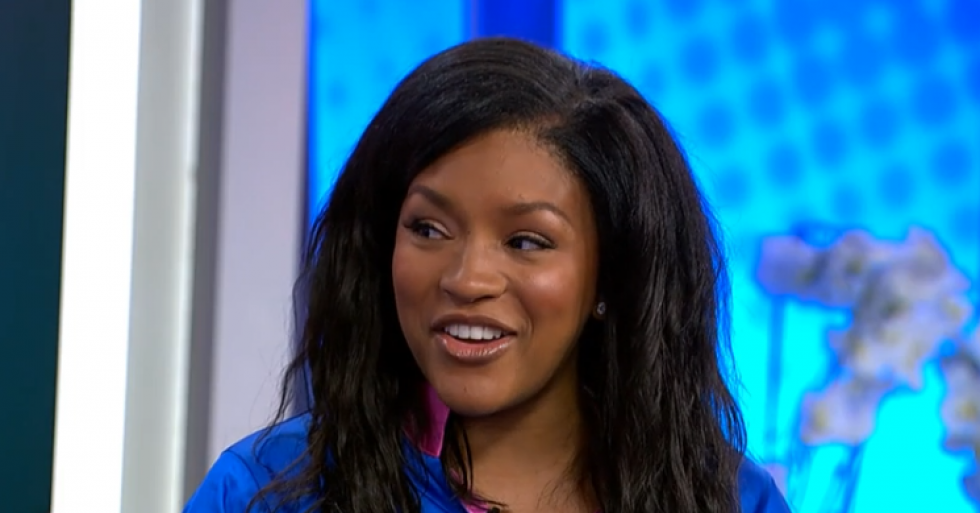 With her big and bubbly personality, it is easy to chat with Drew about anything. As a Chicago native, she has a deep love for the city. She told us what Chicago events she simply can't miss. She also gave us the inside story on how Hosea Chanchez got cast on The Game. Check it out!
What is your most memorable from The Game?
Working with Tia! Also working with Hosea, who is actually my best friend.
My sister made a call for him to get an audition for the show. They said "we're not seeing any more guys." She said "no, you have to see him. He is perfect for it."
I took him to the mall, bought him an outfit, kept the tags on because we had to return it (laughs). You know, in LA when you're acting, the struggle is real. But, I put up the money, picked out a nice little fly outfit and drove him to the audition. I worked with him on the lines and he ended up booking it!
So when I ended up getting on the show, I was working with my best friend. That was awesome. It was awesome because in LA it's so hard as an actor. You hear a thousand "no's." When you get that one "yes," it's pretty amazing.
So to see him working, then for us to be working together after struggling for so long was a blessing.

You were on the show for four episodes, but we all know that you made a big splash. What do you have coming up next?
Well, right now we have a sleep CD out for kids called My Mind Music for Kids. It is available everywhere. You can get it on Amazon and iTunes.
Obviously, with me being a new mom, you know the struggle is real sometimes for bedtime. You want to find easy ways to make bedtime fun. My husband who is a musician found that music really soothes.
If you listen to any soundscapes or anything like that, it releases natural hormones that relax the body. So he put it together. After doing a lot of research, he compiled a sleep system with yoga exercises.
So now when we say it is bedtime, they're excited. Literally, I think by track two they are sleep. We are like did this really just happen?
So that's a project we've been working on that is available and we are really excited about it.
Also, I am about to start filming. I'm losing weight and filming at the same time. So, no wasted time getting back to work. But it is all about that balance of motherhood, working and being very career driven. It's just finding that balance.
I also was doing some research and I noticed that you have a few other recent roles. Tell us about the new film that you are in, Choir Director.
Yes, that is coming out! It is the sequel to The Preacher's Son which has Christian Keyes, Clifton Powell and so many phenomenal actors in it.
People loved it and it's based on a New York Times bestselling book by Carl Weber. If you haven't seen the movie you can read the books as well, but this film is a depiction of his novels. So the Choir Director is coming out. Look out for that! You should start seeing trailers soon.
Tell me a little bit about your role, it seems pretty interesting and compelling.
Oh my, well it gets pretty juicy(smiles). I play a woman who has a mother that is heavily strung out on drugs. [In the film] I have a little brother that I'm left to care for when our mother is missing and in jail. I started stripping in order to make money to put myself through medical school.
I meet this phenomenal guy who is played by Christian Keyes. He is a preacher's son. He starts dating me and obviously takes me to church. There is an issue in that. Who wants to bring a stripper to church and have them sitting on the first row (laughs)?
However, at the end of the film, we are planning to get married and we find out that we're actually half-brother and half-sister.
You have to watch it! It is a lot of twists and turns. It is very drama filled. It is funny. It is all those elements. The Choir Director is a sequel to what happens after The Preacher's Son.
I read about another film that you are in called Just a Friend. Can you tell me about that?
Girl, I love that you know this!
Just a Friend was actually shot in Chicago! So it has some great sites and views of the city. It is a romantic comedy. That is coming out too!
With that being filmed in Chicago and you being from Chicago, how was that experience? What part of the city are you from?
I am from the South Side, originally! I went to high school in Olympia Fields, but I mean I have family all over the city. Shout out to the East Side!
I moved to LA in 2001 and have always been back and forth between LA and Chicago. As you know, Chicagoans are really family-oriented. However, I'm always back here for the Taste of Chicago. The summers in Chicago are the best. It is great to be home.
I did Just a Friend and that was my first time working in my hometown. That just felt amazing.
We are seeing more and more of the city on screen now. Some feel like we are still missing some great gems in Chicago. How do you feel about that? What areas do you feel like should be highlighted more?
I feel like with so much negativity surrounding the city in the media we need to shed more light on positivity. There are so many great people that have come out of Chicago. When you just look at the Kanye West, Chaka Khan, Michael Jordan, The Chi-Lites, the Obamas, the list really goes on. I feel like we need to come together to create synergy around it.
I've noticed there's a lack of acting schools. Those that don't have all the funds or can't get accepted into Second City should be able to go somewhere and get an understanding of what the business is about and learn the proper tools in order to be successful. How can we limit their need to go outside to Los Angeles or to the other larger markets?
It would really give those people in our city those opportunities. I would like to see that happen. I would like to see a lot of those celebrities from Chicago come together and create a synergy to encourage others.
Want to see more from Drew Sidora, check out her Facebook Live interview with Krista Green from 'The Jam!'