Women in Media: Julissa Bermudez talks career, challenges, and role models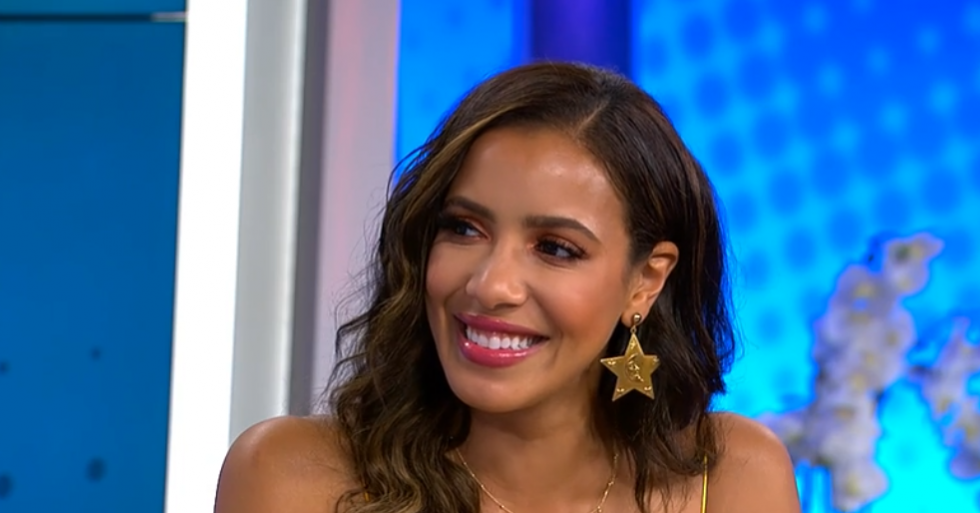 Julissa Bermudez is known for her big personality and genuine nature. She has been on several shows, such as 106 & Park, Empire Girls, and The Steve Harvey Show. This week, Julissa joined us on The Jam as a guest co-host! We had a compelling conversation about her whirlwind start in the media industry, her challenges, and how she feels about role models.
How did you get your start?
Well, I was raised in New York and I always wanted to do some sort of acting. I thought maybe Broadway because that is what I was exposed to the most. I ended up going to a birthday party and met one of my cousins. When you come from a big Dominican family you are still meeting cousins for the first time after you have lived half of your life [laughs]. This cousin was an actor. He connected me to his manager and told me to send her my stuff. I said, "What stuff? I don't have stuff!"
I called her and went for a cold audition. I bought some pictures that I took on a disposable camera. I read a mock script for a commercial. She said, "Okay, that's nice," and I did not hear anything from her for weeks [laughs]. Three weeks later, she called me and sent me to an audition for a Wendy's commercial. I booked it and that was my first commercial, that is how I got my SAG [Screen Actors Guild] card.
After that, things snowballed. She then sent me on an audition that was really a cattle-call [open call group audition]. It was casting out of New York, but the show was based in Miami. It was rounds of auditions and the longest day ever. I just went with a lot of energy and did what I thought people on TV do. I ended up booking my first hosting job at 19-years-old on a show called The Roof.
How did the job on 106 & Park come along?
I was never supposed to be hosting that show [laughs]. I was hosting an after-school show that gave advice to kids and college students, which is funny because I never finished college. I always wanted to, but I ended up going after the opportunities that I was given and never looked back. However, 106 & Park kind of just happened. I ended up doing that for a little over a year. I worked for BET for three years.
You have also done some acting. You were in the movie Ringside and a few other projects, is there more acting in your future?
You know, I have really fallen in love with hosting, although acting was my first passion. I even wanted to get my degree in the arts. I have kind of derailed from acting. However, my roles were challenges for myself and got people to see me in a different light. In Ringside, I got to wear things I would never personally wear and act in ways that I would never behave. My character was quite a firecracker [laughs]. She was really fun to play.
However lately, I have been doing a lot on The Steve Harvey Show. Also, I have been doing a lot of influencer stuff for different brands and things.
What are some of the challenges you have faced in the business?
I feel like as a female in the business we get labeled as being a diva so much quicker than men. I feel like that is unfair because as women we have to take ownership of the way we look, our brand, and what we represent. Sometimes you have to put your foot down. You have to be vocal about what you are not willing to do.
I think that has been a challenge for me… to communicate those things. I joke around and say that I have this "Kanye" thing in me because I am very passionate about what I do. Sometimes, I will fly off the handle and express myself. Then I say I should have let my agent handle that and just be the smiling talent that everyone wants to work with.
Sometime you may burn or bridge or make a mistake. You have to learn from that and keep it moving.
You are seen as a role model by a lot of people for being a Latina, for being a woman in the industry, and more. What does that mean to you?
I always feel like role models are of course found on TV and big platforms; however, I always tell girls to look around and see how they can be influenced by their immediate surroundings. At the end of the day, people who are "celebrities" are still humans. They should not be automatically put on a pedestal or given the role-model title. Everyone is not meant to be a role model. Even in someone's realness and mistakes, that is still a form of being a role model. I feel like society often judges celebrities actions unfairly or too soon.
Did you miss Julissa on The Jam? No worries just check out this video of her time with us! She explored the Chicago food scene and created her own burger!